The Archives
Nominated For Best of Nashville on Deli Magazine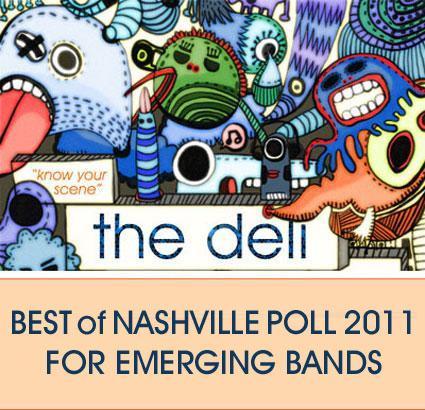 Vote for Us if You Love Us!
Deli Magazine has nominated us for the Best of Nashville Poll 2011 for Emerging Bands! We feel extremely honored to be among so many other great artists. The cherry on top, of course, would be to win the poll which ends on January 30th, 2012. So place your votes if you love us! And if you don't vote on us, consider at least voting on our friends who are also in the running such as Andrew Combs, Protomen, Daniel Ellsworth & The Great Lakes and Heypenny. We want a fair fight and these bands are certainly amazing.
Remember... YOUR VOTE COUNTS!
Humming House Debut Album Release Party
Our First Show Since Aught Nine
Can you believe it? It's been way too long since we played live. Thankfully, our good friends Humming House decided to fit us on the bill for their debut album release show! We're honored, because they are pretty amazing people/musicians/pie-fighters. Don't believe me? Check this out.
So next Saturday night, January 21st stop by the Basement and get your Umbrella Tree fix. Andrew Combs will be opening. Humming House will be headlining. I mean... can you think of anything better to do?
Merry Christmas and a Happy New Year
Mele Kalikimaka
That's how they say Merry Christmas in Hawaii, in case you did not know. Here's another track and another video. This time it's holiday-themed-Umbrella-Tree-style. Enjoy.
Have a very merry Christmas.
We'll be seeing you all next year.
Holla.
SpottieOttieThankalicious
Thanks to Our Backers
Well, Kickstarter was a sweet rollercoaster ride. We inched our way up to the tippy top and did a 360 degree loop. Exhilarating and equally terrifying, we're amazed we didn't tumble to our deaths.
But enough with the analogies, there are thanks to be said. So we made a video because well frankly, that's how Umbrella Tree do.
We thank all the backers who contributed and made this vinyl release possible. THANK YOU. Without you, there never could have been a successful campaign on Kickstarter. Without you, there never could have been an early digital download in your email inbox. Without you, there never could have been a slick cover of SpottieOttieDopalicious with your name in it. DAMN! Now go and marinate on that for a minute...
As for other news, we will be playing a live show soon!
The planets will align on Friday, January 21st. So watch out!
Made Our Goal But It's Not Over Yet
We surpassed our goal on Kickstarter yesterday thanks to the support of everyone who contributed. Of course, the people who pre-ordered the vinyl will be getting the appropriate rewards + extra goodies that we're cooking up. We're throwing it all in a pot and it's going to be seasoned and delicious. Thanks again to our backers.
But wait a minute... 10 days left? Wow, that's still a lot of time to pre-order. Remember the deal. It's $5 off the normal price. You'll get the download instantly on December 1st. Extra goodies will be sent as well. Zack spoke of this in the video here, so you know it's not a lie.
You better hop on this train before it rolls by. The more you love us, the more we'll love you back. Win-win.
New Music Video. New Youtube Channel. New Everything.
We got us another video people. It's great to have an editor in the band. Derek did a superb job. Of course, Ben Pearson and David Ogle gave him some incredible shots to work with. Did anyone else know that amazing bridge existed in Nashville? Cause I sure as hell did not.
Quote from an old man walking on the Pedestrian Bridge while we were shooting, "Is there a body in there?" He believed we were going to ceremoniously throw the coffin over the bridge and let it tumble into the Cumberland River. Now that would have been a great shot...
In other NEW news, we have a legit Youtube channel now. It's got all the videos from The Letter C DVD plus an extensive collection of live footage. It's that Hi-Def ya'll! And stay tuned for more videos coming very, very soon.
Incredible.
New Photos & Music Video

Fourth Member Not a Ghost
Yesterday was a beautiful and productive day. We hauled a very heavy coffin around for one reason: a music video. Thanks to the talents of Ben Pearson and David Ogle, we shot the entire video in one day. While Derek's losing sleep editing the thing, you can get a sneak peak with these fancy photographs by Sally LaFave.
If you haven't already noticed something strange about the photos, I'm here to tell you. We've added a fourth member to our trio (which transforms us into a quartert, mind you). Ryan LaFave has been the "Man Behind the Curtain" until very recently. He co-wrote a few songs from The Letter C and played a major role in the video for "Uncle William". But he couldn't stay a ghost member forever. Now he's our new bassist and pallbearer. Welcome, Ryan, welcome.
Stay tuned for our new music video!
Press PLAY to listen to the track "N-N-N-N-N-N-N"
Vinyl Pre-Order Extravaganza!

Pre-Order & You'll Get Download Dec 1st!
To the Memory of a Once Great Man will be released on vinyl and download in Spring of 2012, but if you pre-order the vinyl now, we will send you the download December 1st. This offer is available through November 30th through Kickstarter. This is the only ONLY way to get the music
before Spring unless you mug Derek, and I would not fuck with Derek. Here's a video he made about the pre-sale. November only: Hear the clock tick!


Reasons to pre-order:
1. You get instant download on Dec. 1st
2. You get the album on vinyl for $5 LESS
3. You help us unleash this bad boy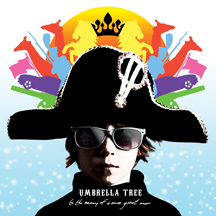 We are making a record...
To the Memory of a Once Great Man
Hello folks! Umbrella Tree here to discuss pressing matters of late. As of now, shows are not as frequent due to an inane desire to record, record, record! However, this should not dissuade your interest because the next project we are cooking up will satisfy your appetite for Umbrella Tree.
The Letter C Music Videos
Did you know that The Letter C comes with a DVD? Well it definitely does. Also, that DVD is packed with a video for all 17 tracks of the album PLUS a couple of bonuses such as "Nursing the Patience" and a fan-made video for "The Bird & The Fish". You want a preview? Go ahead.
Free Music at Noisetrade
Visit Noisetrade for a free download of Acoustic at the Prizefighter Compound. Includes acoutic versions of various tracks from previous albums. Recorded by Justin Herlocker at Prizefighter Compound in 2009. Make your ears happy without spending a dime.